Marguerite Engberg (12 June 1919 – 26 December 2021)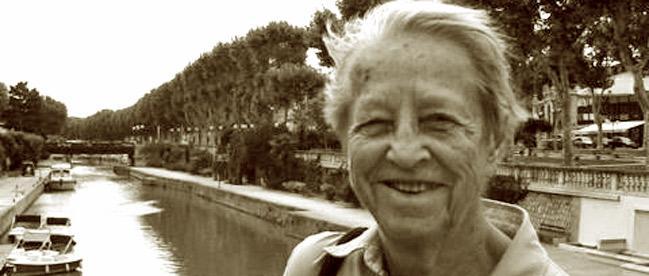 When in the early 1990s I was working at the nitrate film archive of the Netherlands Filmmuseum, the present Eye Filmmuseum, one of our major reference books was what we called The Registrant, fully Registrant over danske film 1896-1930, a five volumes series on Danish silent film (1977-1982), which we also nicknamed after its author: The Engberg. While many reference books on silent cinema were still absent, or were being made during my five year work at the film archive (those were really pioneering years), there was already The Engberg. In a time when other foreign archives and academicians were not yet ready for it, the Registrant already contained foreign release titles for Danish silent films, making identification easier. Through my work I also met the woman behind this magnum opus, a witty but also resolute Danish film historian, and the doyenne of Danish film history: Marguerite Engberg. Yesterday, I read that Marguerite Engberg has quietly passed away at the extreme high age of 102.
As Peter Schepelern wrote in Filmmagasinet Ekko, Marguerite Engberg was the first teacher of Film Studies at the University of Copenhagen when the subject was established in 1967. In the mid-1960s, when the film medium had finally gained recognition as a medium (almost) as culture-bearing as the "old" arts, Denmark passed a new film law to protect the medium now that it was being overtaken by television. A Film School was set up and an initiative was taken – for the first time in Scandinavia – to introduce film as a university subject. It was the Film Fund, the predecessor of the Danish Film Institute, which initially funded a so-called amanuensis position at the University of Copenhagen for three years. It sought an academically trained person with an interest in film and appointed the sole candidate, Marguerite Engberg, who in 1967 was entrusted with the task of establishing film as an academic discipline. As Schepelern writes, who became her colleague, she hated burocracy: "Marguerite brought her own form to the academic environment, characterised by a general no nonsense attitude and an often benevolent spontaneity. If some tedious query came from the University's management on some bureaucratic subject, Marguerite could resolutely tear the letter out of its binder in a flash, throw it in the wastepaper basket – and we'd talk no more about it."
Throughout the 1970s and 1980s, Engberg continued her pioneering work exploring Danish silent film. She managed to interview pioneers such as Robert Dinesen and Alfred Lind and wrote the script for an 11-episode series on Carl Theodor Dreyer. She kept her distance from theoretical matters, but devoted herself with great tenacity and cheerful enthusiasm to both fact-gathering and historical research, and obtained a Swedish doctorate from Stockholm University in 1978. The result of her research was a two-volume historical account, Dansk stumfilm: de store år (Danish Silent Film: the Great Years), and her massive five-volume register of all Danish silent films from 1896 to 1930 (mentioned above). Later she wrote books about some of the most important personalities of the era, Fy & Bi (Pat & Patachon/ Long & Short, known in the Netherlands as Watt & Halfwatt) and the film star Asta Nielsen, whom Marguerite had interviewed back in the 1960s, and who was her great inspiration. After her retirement in 1989, she continued the restoration work for Cinemateket of great classics such as Den hvide Slavehandels sidste Offer (The Last Sacrifice of the White Slave Trade) and Atlantis by my namesake August Blom (we're not related), and Dreyer's first two films, Præsidenten & Blade af Satans Bog (The President, Pages of Satan's Book) – some of which you now can enjoy online for free in new digital restorations on the site of the Danish Film Institute.
Marguerite Engberg received an Honorary Bodil Award, A Women in Film and TV's Golden Mermaid and, in 2004, the Jean Mitry Award from the Pordenone Silent Film Festival. Indeed, she was a regular visitor of the Giornate del Cinema Muto and we often met there, where she joined in and enjoyed copious lunches and dinners with my fellow Dutchmen Karel Dibbets and Nico Brederoo – in Pordenone or nearby Porcia. Marguerite also visited the Eye archive in the 1990s where she learned me how to pronounce "Asta Nielsen" in Danish – which was quite something different from any pronunciation I had known within and outside of the Netherlands. I fully adhere to Schepelern's closing words in his necrology: "With her great and dedicated efforts, she stands as the founder of academic film research in Denmark, the grand old lady of Danish silent film research, a veteran and pioneer in the dissemination of film history."